Nigeria's declining economy has been a growing concern over the years as it has been hit with numerous lows across all sectors.
Ahead of the 2023 general election, agitation for a visionary leader is steadily building at the polls
But the main questions on the lips of economic experts remain; does any of the presidential aspirants understand economics
FCT, Abuja- Nigerian think tank and private sector advocacy group, the Nigeria Economic Summit Group (NESG), has laid out a six-point agenda for potential political candidates vying for the upcoming general elections.
The economic group rolled out these agendas in Abuja on Friday, May 20 at a national economic dialogue forum held at the Shehu Musa Ya'radua Centre.
Speaking at the forum, NESG Chairman Mr. Asue Ighodalo described the upcoming elections as critical for the future of Nigeria and its economy.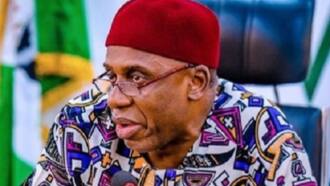 2023: Rotimi Ameachi's candidacy critical to Nigeria's prosperity, group says
While stating that the next poll will focus on Nigeria and Nigerians, he revealed that Nigeria is suffering from critical challenges which have held the nation's economy captive.
Ighodalo cited issues such as non-inclusive economic growth, macroeconomic instability, infrastructure deficit, human capital deficit, skills deficit, national insecurity and weak economic competitiveness.
Also speaking at the National Economic Dialogue, the former President of the Bar Association of Nigeria (NBA), Dr. Olisa Agbakoba revealed that the economic state of Nigeria needs a visionary President to reshape it and give it a new look.
Apapa port will generate 20 billion naira per day if efficient, says Agbakoba
While reflecting on Nigeria's growing debt, estimated at around 45 billion naira, the legal silk said Nigeria had the resources and the potential to eliminate the deficits.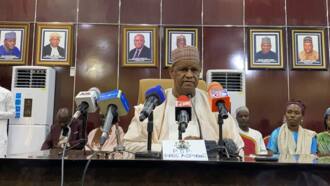 2023: Nigeria urgently needs leadership that can fix the economy, influential PDP aspirant Hayatu-Deen reveals
He cited Apapa Port in Lagos as a classic example of national revenue-generating infrastructure that can help fill the gap.
Agbakoba said Apapa Port has the potential to generate 20 billion naira per day if managed efficiently.
He said:
"We are not broke, we have N17trn which is nothing for a national budget. My industry (the maritime sector) is completely omitted from national development planning, but just the port of Apapa, if it was effective , it will generate N20bn per day equal to N7.3trn per year which wipes out the so called deficit."
Meanwhile, the Nigerian Economic Summit Group (NESG) at the National Economic Dialogue outlined the following as the six key programs that can reshape the Nigerian economy.
1. Rethinking what socio-economic development means to an average Nigerian
This program disturbs to reform issues of human rights, education, health care, level playing field and job opportunities.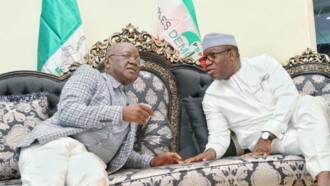 2023: I will restore the central north as major tourist, mining and agricultural destinations, says Fayemi
2. Rethinking the role of the market and the private sector
The NSG, in its opinion, advocates appropriate pricing, limited or no subsidies and high private investment.
3. Deepen sector reforms to support broad-based growth and competitiveness
This aspect stems from multi-sectoral growth, value-added exporting and improving the value chain.
4. Integrated national and sub-national approach to economic inclusion and development
5. Pragmatic and achievable social sector reforms
This is a very important aspect that must be taken into account because it requires funding for education, health for all and the digital economy.
6. Develop an achievable and inclusive national security strategy across all dimensions
This is another very important entity in Nigeria that needs absolute overhaul and reform as it requires fostering community policing and social cohesion.
Source: Legit.ng